Nuformat Inc. Wins First 5-Star Review on B2B Platform
Nuformat Inc. is a cybersecurity firm that helps small and medium businesses from continuous cyber risk. We provide services that enhance your operational capabilities, giving you the utmost confidence to accomplish your goals. We believe that every business deserves best-in-class protection in the modern digital space.
Feedback is integral to our constant pursuit of consistent high-quality service. That's why we're excited to report that we've received our first-ever 5-star rating on Clutch: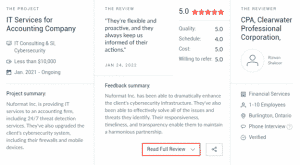 For context, Clutch is a B2B ratings and reviews platform committed to helping businesses of all sizes connect with the service providers they need to tackle their challenges. Clutch's review collection process revolves around making unbiased information available and easily accessible. The platform interviews vendors' clients directly to ensure that each feedback is authentic.
The first review we acquired came from Clearwater Professional Corporation, an accounting company. Our partnership began in January last year when we were brought on board for IT services. 
We did a complete enhancement of the client's cybersecurity posture. 3 key elements were added;
1_Customer was challenged with how to get secured with no technical staff of their own –  we provided a fully managed solution.
2_Transition from complex security solution using multiple disjointed security vendors requiring heavy management time to a single pane of glass simplified security solution that's fully managed by us.
3_Adding a much needed 24/7 threat detection and response which was completely void in current environment.
We're proud to say that we've delivered impactful strategies and solutions to the client in combating cyber risks that can affect their business. We also make sure to be flexible and proactive in keeping them informed about our actions.
Here's what they said about their overall experience of working with us:
"They've done a great job of bringing our cybersecurity into the 21st century. They provide monthly reports, and they show us how they resolve the issues and threats they identify. Overall, we're extremely satisfied with every aspect of the partnership.

Their in-depth knowledge of cybersecurity is impressive, and they provide a good explanation of what's needed prior to spending money."
We'd like to thank Rizwan for sharing their team's positive review of our work. We're excited to see what lies ahead for our partnership in the future.
If you're curious about this project, be sure to check out the review on our Clutch profile. Additionally, you can find us among the top agencies on The Manifest in the field of cybersecurity. The Manifest is Clutch's sister B2B website.
For inquiries about our solutions, please contact us and let us know how we can help you!