Certified Ethical Hacker – CEH v11 course online
Advance your career in the field of cyber security by learning certified ethical hacker skills completely online.
The Certified Ethical Hacker (CEH v11) boot camp course covers advanced ethical hacking topics with hands on training that are used in real world cyber security profession.
Gain extensive knowledge from our live virtual classroom that is taught by certified and industry experienced instructors.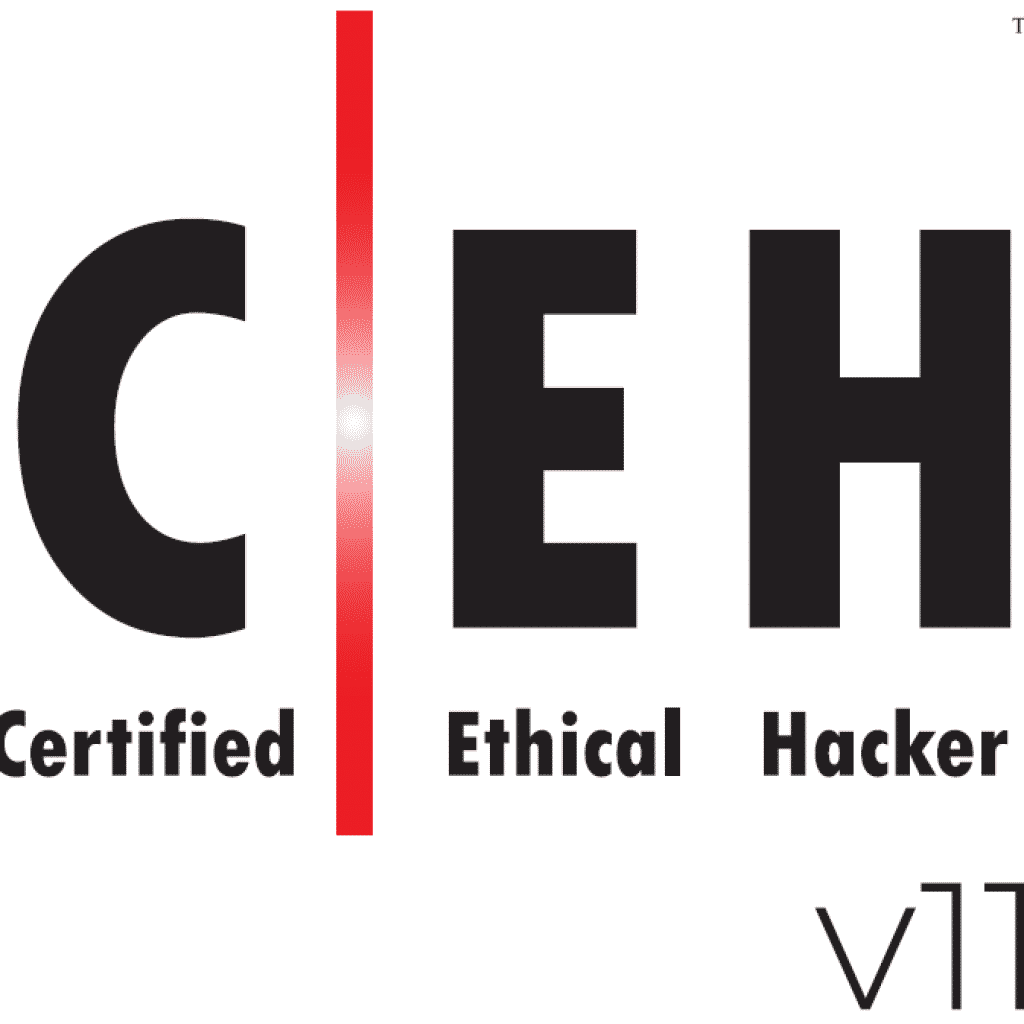 EARLY register by Feb 12 
Get 15% OFF
Discount code: CEH-NF-FEB22
CEH course – Key Features
› Virtual class: 5 day live instructor boot camp course
› iLabs: Access to labs for 6 months
› Course material: e-courseware for 1 year
› Exam Pass Guarantee:  You'll pass, but just incase,  1 retake free!
› Remote protector exam voucher: Take the exam remotely
› CodeRed Pro: Vast repository of e-learning material for 13 months
› Mentorship: Your instructor will mentor you even after the course.
› EC-Council ATC: Accredited Training Centre of EC-Council
New CEH v11 – Certified Ethical Hacker course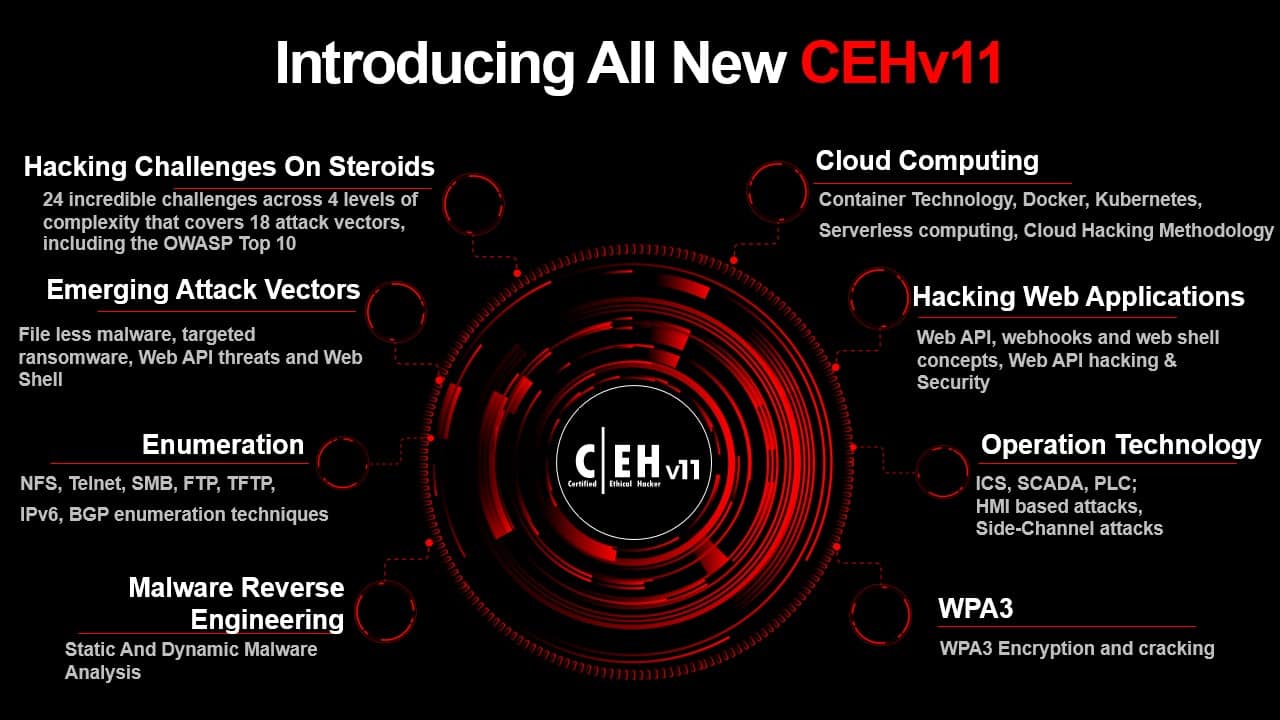 CEH course topics – 20 domains covered
Module   1: Introduction to Ethical Hacking
Module   2: Footprinting and Reconnaissance
Module   3: Scanning Networks
Module   4: Enumeration
Module   5: Vulnerability Analysis
Module   6: System Hacking
Module   7: Malware Threats
Module   8: Sniffing
Module   9: Social Engineering
Module 10: Denial-of-Service
Module 11: Session Hijacking
Module 12: Evading IDS, Firewalls, and Honeypots
Module 13: Hacking Web Servers
Module 14: Hacking Web Applications
Module 15: SQL Injection
Module 16: Hacking Wireless Networks
Module 17: Hacking Mobile Platforms
Module 18: IoT Hacking
Module 19: Cloud Computing
Module 20: Cryptography
Getting ready for the real world means learning from the instructors who have real world experience in the field.
Our instructors are hand picked, with many years of field experience and of course, they're CEH certified and well as Certified EC-Council Instructors (CEI).
1
+
Instructors with years of industry experience
Have you ever been on a course where instructor is too busy due to number of students? We realize the importance of low student to teacher ratios. Every student should have access to the instructor and gain from interactive discussions and Q&A.
Our class sizes are small, upto 12 students per course.
1
Max students per course
Course bundles and savings
Your course includes subscription to huge library of cyber security learning via CodeRed Pro for 13months.
Also, our course has instructor MENTORSHIP that enables Q&A access to instructor even after the boot camp is over.
1
Months of access to CodeRed pro
PRICE
CEH v11 certification boot camp course
Early register by Feb 12, 2021
Discount code: CEH-NF-FEB22
Get 15% discount
15% off

CEH - Certified Ethical Hacker

Cdn$3490

5 Day boot camp

8am - 5pm

Virtual live instructor

iLab access - 6 months

Course material - 1 year

Remote proctor Exam voucher

Exam Pass Guarantee

CodeRed pro - 13 month access

EC-Council CEHv11 (latest)

Advance your skills

Registration is OPEN

Discount code: CEH-NF-FEB22

discount 15% off

Limited seats per course (12)

Reserve your's now
Why get CEH certified?
Global demand for cyber security professionals
Cyber security skills are in high demand with approximately 3MM job vacancies available. Our goal here is to provide cutting edge cyber security skills development for novice as well as professionals that that are needed in the digital economy of today.
You'll learn from out top quality industry experienced instructors, equipped with training labs so you can get to work without wasting time in DIY lab building.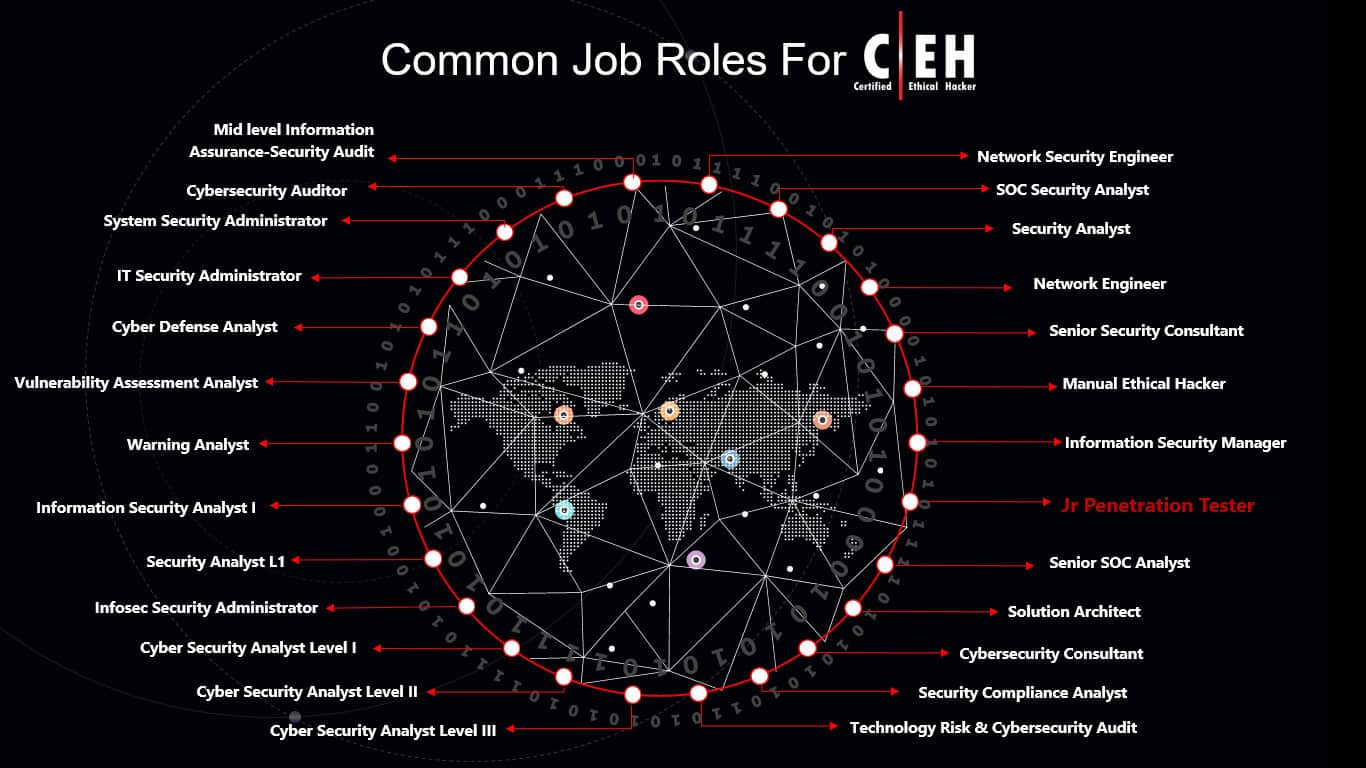 What is CodeRed Pro?
EC-Council CodeRed Pro subscription is continuous learning platform for busy cyber security professionals that want to learn and grow their cyber security skills at their own pace. The CodeRed Pro portal has a vast variety of e-learning topics can progress at your own pace. 
CodeRed Pro is a 1 year subscription that is included every boot camp course. That allows 1year+30days of access to the course library.

EC-Council Accredited Training Centre
We specialize in providing cyber security services, solution, awareness and skills development. Cyber security is our mission.