Computer Hacking Forensics Investigator – CHFI MastersClass course online
Advance your career in the field of cyber security by learning Computer Hacking Forensics Investigator CHFI skills completely online.
The Computer Hacking Forensics Investigator CHFI MastersClass course covers forensics analysis and Certified Incident Handler CIH and 3 Computer Forensic Deep Dives. This give great advantage since it combination of forensics and incident handling expertise. Gain extensive knowledge from our live virtual classroom that is taught by certified and industry experienced instructors.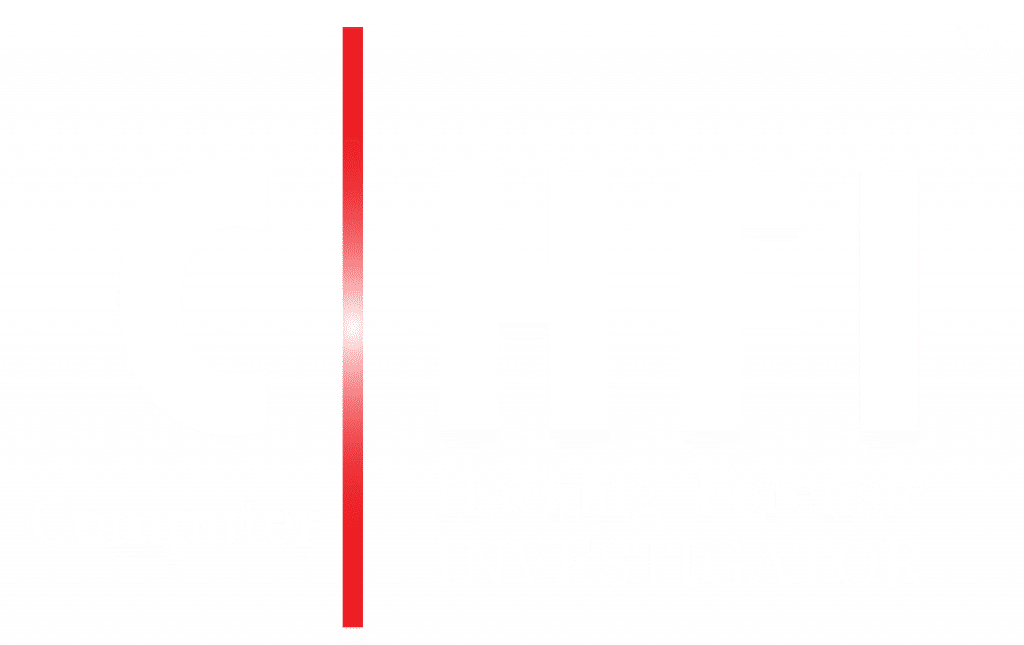 CHFI Self paced online enrollment
Course date: anytime
Course options: iLearn – self paced online
$2200 USD
CHFI MasterClass Enrollment
Course dates: 
Mar 7 – 11; 10am – 6pm EST; Instructor: Eric Reed
Mar 29 – April 28; 6pm – 10pm (EVENING); Instructor: Eric Reed
Jun 6 – 10; 10am – 6pm EST; Instructor: Eric Reed
Sep 13 – Oct 13; 6pm – 10pm (EVENING); Instructor: Eric Reed
Oct 2 – 5; 10am – 6pm EST; Instructor: Eric Reed
Course options:
CHFI – Live instructor online course
+
CIH – Self paced online course
+
3 Deep Dives
$3200 USD
CHFI MasterClass – Key Features
› Virtual class: 5 day live instructor boot camp course
› iLabs: Access to labs for 6 months
› Course material: e-courseware for 1 year
› Exam Pass Guarantee:  You'll pass, but just incase,  1 retake free!
› Remote protector exam voucher: Take the exam remotely
› CIH self paced online course: Included
› 3 Computer Forensic Deep Dives: Included
Dark Web Forensics Deep Dive
Memory Forensics Deep Dive
Mobile Forensics Deep Dive
Computer Hacking and Forensics Investigator CHFI MasterClass course outline
Module   1: Computer Forensics in Today's World
Module   2: Computer Forensics Investigation Process
Module   3: Understanding Hard Disks and File Systems
Module   4: Operating System Forensics
Module   5: Defeating Anti- forensics Techniques
Module   6: Data Acquisition and Duplication
Module   7: Network Forensics
› The course was designed and developed by experienced SMEs and digital forensics practitioners
› A complete vendor neutral course covering all major forensics investigations technologies and solutions
› Detailed labs for hands-on learning experience; approximately 50% of training time is dedicated to labs
› It covers all the relevant knowledge-bases and skills to meets with regulatory compliance standards such as ISO 27001, PCI DSS, SOX, HIPPA and more
› The program presents a repeatable forensics investigation methodology required from a versatile digital forensic professional which increases your employability
› Coverage of latest forensics examination techniques, including Linux and MAC Forensics
› Labs on Defeating Anti-forensics Techniques, Database Forensics, Cloud Forensics and Malware Forensics
› Establish threat intelligence and key learning points to support pro-active profiling and scenario modeling
› Perform anti-forensic methods detection
› Perform post-intrusion analysis of electronic and digital media to determine the who, where, what, when, and how the intrusion occurred
› Extract and analyze of logs from various devices like proxy, firewall, IPS, IDS, Desktop, laptop, servers, SIM tool, router, firewall, switches AD server, DHCP logs, Access Control Logs & conclude as part of investigation process.
› Identify & check the possible source / incident origin.
› Recover deleted files and partitions in Windows, Mac OS X, and Linux
› Conduct reverse engineering for known and suspected malware files
› Collect data using forensic technology methods in accordance with evidence handling procedures, including collection of hard copy and electronic documents
PRICE
CHFI MasterClass certification
2 in 1 boot camp course
$3499 usd
Where do you from here?
Great you're on you way to becoming a CHFI expert!
Where do you go from here?
We have advanced learning Certified Ethical Hacking CEH, which is at Core learning track leading towards a CPENT certification.

Top 10 reasons to get CEH certified
Here are Top 10 reason get CEH certified (by EC-Council)
Read full article;
https://blog.eccouncil.org/top-10-reasons-to-pursue-the-certified-ethical-hacker-when-considering-a-career-in-cybersecurity/
TRUSTED BY FORTUNE 500 COMPANIES
ACCREDITATIONS, RECOGNITIONS, AND ENDORSEMENTS
EC-Council Accredited Training Centre
We specialize in providing cyber security services, solution, awareness and skills development. Cyber security is our mission.