Small and Medium Business Hub
…time is running out
Cyber security for Small and Medium Business (SMB)
It takes alot of effort in time and money to build and operate a small and medium business. Countless hours of dedicated hard work to build your brand reputation with establishing client trust. SMBs are constantly looking to enhance their business and differentiate themselves from the pack.
Business Enhancement:
Our SMB Cybersecurity services and solutions mission is to enhance Small and Medium businesses (SMBs) by:
Reducing Business Risk

Protecting Brand Reputation

Preventing Revenue Loss

Differentiating Business
The SMB Challenges:
SMBs are constantly challenged in many fronts such as increasing IT staffing workloads, technology limitations, and simply funding availability constrains. All the while businesses need to maintain efficient operation and reduce business risk.
Our cybersecurity solutions are geared to solve these problems for the SMBs. SMBs operate in many diverse sectors and our goal is to service where ever they need us. We would encourage your business to contact us regarding your cybersecurity requirements. Taking action is the first step to getting your business secured and insuring your business risks are minimized.
Enhance Small and Medium Business
Cyber security enhances your Small and Medium Business by reducing business risk.
What are these business risks?
A business digital operations is exposed to many threats. Small and Medium business are not immune to these threats and latest stats say the 43% of cyber attacks were targeted towards SMBs. These cyber threats are summarized here;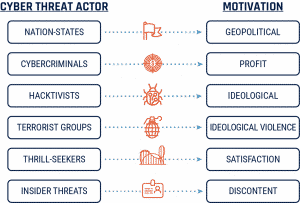 How is this achieved?
We achieve the business enhancement by reducing business risk by deploying DEFENSE IN DEPTH security strategy. Defense In Depth security strategy adds multiple layers of security, just like the inner layers of an onion.
STEP1: ASSESSMENT
Our security journey starts with an ASSESSMENT of your current state. We need to know what you have or don't have and develop a plan of action to secure your small and medium business.
STEP2: SINGLE VENDOR SOLUTION
For small and medium businesses recommend a single vendor solution. This has several benefits and considerably reduces cost of operations and also time to resolution.
Below are the benefits of his approach to security:
Save executive and employee vendor management time and expense by consolidating vendors.
Save IT system management, monitoring and break-fix time and expense by consolidating applications and technologies under one (or fewer) vendor.
Reduce upfront out of pocket costs by leveraging bundled pricing.
Increase operational benefits by having synchronized security (security applications and devices communicating together to help identify-defend-protect against restrict threats).
Reduce manpower or external consultant expense by working with a single vendor.
Reduce IT administration, support and management costs by utilizing a single-pane-of-glass for tracking and managing all of the various technology and applications.
Our blog article How to secure Small and Medium Business in time recession discusses these benefits.
STEP3: SINGLE PANE OF GLASS 
Bringing majority of security requirement under a single vendor solution enables SINGLE PANE OF GLASS management. This further optimizes time to resolution and management ease.
STEP4: Transition to OPEX model
Our managed security services and security infrastructure are deployed using monthly subscription model. Long term CAPEX planning are now a thing of the past.
We have not transition our customers to OPEX model, with no long term contracts.
Small and Medium Business Industry Sectors
Education
All schools, this is a great time to get your cybersecurity posture beefed up. Schools have private information about students as well as other confidential information such as billing information that cybercriminals can exploit.
Enable the right cybersecurity solutions can reduce the risk and can protect the private information of students from getting in the hands of the bad guys.
We help secure;
Private Schools
Community Colleges
Universities
Focus institutions (IT, coding, other fields)
Financial Services
Your clients trust and deserve the best security for their money and information. In an always-on and connected cyber world, cyber threats and attacks can come from anywhere at any time.
We help provide continuous detection and protection to your financial services using the best technology and people. Safe guard your clients and stay out the head line news.
We provide cybersecurity services and solutions to the Financial Sector that include;
Banks
Credit Unions
CPA Accounting and Tax firms
Insurance firms
Investment firms
Mortgage firms.
Financial Sector under increased threat and cyber breach frequency is on the rise. We help mitigate the business risk by providing adequate cybersecurity monitoring and security controls, without impacting the core business.
We specialize in:
Security assessments
Continuous monitoring & maintenance
Compliance
Security products
Connect with our experts and get your Financial Business Secured Now and complied!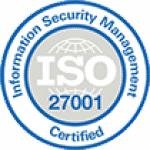 Healthcare
There is no place to hide. Cyber attacks can have devastating impact on medical services and information loss.
We help secure the medical service centres and hospitals from cyber attacks.
Get secure and HIPAA complied now!
Get Complied:

Legal
Protecting the Legal sector is our major focus. Although no sector should be left out without protection from cyberthreats and cyberattacks, the legal sector is susceptible to cybercrime since they are not technical and can leave themselves exposed to business risk from bad actors. We want to bridge this security gap and provide them the capability of being protected with state-of-the-art cybersecurity people, technology and processes.
With a layered approach, much like an onion with multiple layers, we introduce a multilayer cybersecurity for legal firms and allows them to focus on their cases and not cyberthreats. Provide peace of mind in a complex cybersecurity world is what we achieve.
Get your legal firm secured and monitored with 24×7 state-of-the-art cybersecurity protection and sleep easy at night knowing that WE HAVE YOUR BACK!
Manufacturing
We now well into the 4th Industrial revolution, Industry 4.0, The Digital age.
Digital transformation is going to bring increase efficiencies in all aspects of manufacturing businesses, however, the digital transformations are also going to introduce new cyberthreats and risks to businesses. Going digital means hackers can now disrupt business operations resulting in downtime and lost revenues.
Businesses are also susceptible to intellectual  property data loss if they've restrained from cybersecurity investments.
We help secure the manufacturing sector businesses and help keep the lights on and business running smoothly, while keeping the business good name out of the spot light.
Memorial
Anywhere there is private information being stored, they're prime targets for cyberattacks. Memorial services sector is yet another sector that is of interest and incur damage from cybersecurity breaches.
Proper cybersecurity protection should be place to securely make transactions and also store very important client data that can be used in time of need. We can provide the protection and monitoring need for Memorial services sector and reduce the business risk significantly.
Businesses try to focus on their expertise while we focus on securing their business from the continuous cyberthreats.
Mining
Deep below the depths of the soil, mining is underway to lay the foundations for the manufacturing ingredients that will shape our world above ground. Yet, they're not immune to cyberthreats and cybercrime that can have a major impact on mining operations. Business can disrupted by bad actors that can take control of mining robots or exfiltrate critical mining data and hold a business ransom.
Wether you're a small exploration mining company or junior producer or a mid tier producer or a major producer, the cybersecurity should be to a critical component of the business to insure reduced business risk. With resource contraints abound, and IT staff over loaded, we are here to him and provide state-of-the-art cybersecurity for your mining business, regardless of size.
Don't delay, get secured and have peace of mind that you have your business risk reduced by having us be your cybersecurity guardians.
Retail
Protect your Online Business from cyber attacks. 40% of SMB are unable to recover after a cyber attack.
We are here to help your Online Businesses get the protection it needs and to keep the bad guys out.
Get your E-store secure and PCI complied now!
Get Complied: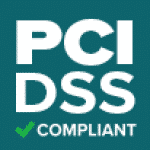 Gov of Canada:
Cyber security guide for  Small and Medium Businesses
Why Us?
Business Enhancing Solutions
Enhancing Customer Business is our mission.
Reduce Business Risk
Protect Business Reputation
Prevent Revenue Loss
Differentiate Business