Protect Your Revenues and Your Reputation
You've spent countless hours growing your business, building your reputation, and establishing the trust of your clients. We help you protect that.
With increased business comes the increased risk of cyber attacks along with increased IT workloads, technological limitations, and funding constraints. We help you navigate that.
As you grow, you need continue to operate efficiently, expand your business, and do what you do best. We help you focus on that.
Cyber security services designed specifically with
small and medium size businesses in mind.
Take the first step to securing your business.
43% of cyber attacks target small and medium businesses.
Cyber security enhances your Small and Medium Business by reducing business risk.
Common cyber threats include;
Phishing
Malware/Ransomware
Cryptojacking
Exploits
These threats can come from anywhere.
Cyber threats and Motivators: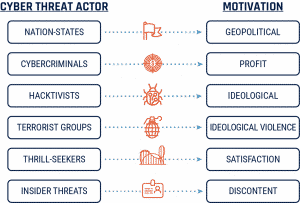 Protect your business with a Defense in Depth security strategy featuring multiple layers of protection.
1. ASSESS
We look "under your hood" to determine your vulnerabilities and develop a plan to secure your assets.
2. CONSOLIDATE SECURITY CONTROLS
Benefits of consolidating your security control tools under a single vendor solution include:
Reduced IT administration, support and management costs
Reduced upfront out-of-pocket costs by leveraging bundled pricing
Reduced manpower and consultant expenses
Reduced executive and employee vendor management time
Reduced time to resolution
Improved IT system management, monitoring and break-fix time
Enhanced operational benefits through synchronized security (security applications and devices communicating together to help identify, defend, and protect against threats).
Learn more about the benefits of a single-vendor solution.
3. EFFICIENT SINGLE PANE OF GLASS MANAGEMENT
Single plan of glass management allows your IT staff to see data and interfaces from multiple sources in a single dashboard optimizing both management and time to resolution.
4. FLEXIBLE MANAGED SECURITY SERVICES 
Benefit from all the advantages of a Security Operation Centre without the long-term capital planning. Your monthly subscription enables you to conserve CapEx without compromising your security posture. Our operating expense model gives you the flexibility long-term contracts don't.
5. MAINTAIN CYBER VIGILANCE
We help you develop good cyber security practices and policies including an Incident Response Plan (IRP) and continuous testing and validation of your security posture via penetration tests, backups and DR plans.
Managed cyber security plans for
small and medium businesses
Reduce risk ● Protect brand reputation ● Prevent revenue loss ● Gain a competitive advantage
Hardware installation and On-boarding fees not included. Contact us for pricing details.
Cost estimator for Managed Security Services
We can have a cost estimate over to you in minutes. Just fill out the quantities needed for each service/product. We're here if you need to answer any questions. Simply click the Live Chat and we'll discuss it there. Or give us a call.
Why Use Managed Cyber Security Services
Managed services provide relief for over-taxed IT teams by outsourcing comprehensive, up-to-date security monitoring, threat investigation and response services.
24/7 threat detection, investigation and response
Our state-of-the-art technologies never stop looking for abnormal activities, investigating anomalies and, when found, containing the spread. This allows your IT teams to focus on other important tasks and for you to rest easy knowing that your business is protected around the clock
Up-to-date protection with a managed firewall
All businesses connected to the Internet, need firewall protection. A managed firewall is a first line of defence against hackers accessing your systems and data.
We manage your firewall including firewall backups, OS upgrades, firewall configuration changes, alerts tasks, and support functions allowing you to make up to two changes to firewall configurations per month.
Freedom from CAPEX burdens with a monthly subscription
Avoid being stuck in multi-year contracts you can't get out of. Our services are available by monthly subscription with one-year contracts (or upfront purchase) for hardware like firewall and Wi-Fi Access Points
Cloud-based management that makes good business sense
With cloud-based management you avoid the high costs of owning and operating your own servers while enjoying minimal downtime, the agility to respond to changes and rapid disaster recovery. An added benefit is single-pane-of-glass management where all services can be accessed from a single dashboard.
13 CYBER SECURITY BEST PRACTICES ALL SMALL AND MEDIUM BUSINESSES NEED NOW
According to the Canadian Centre for Cyber Security, as of 2020 all small and medium-sized businesses should – at a minimum – have the following baseline controls.
An incident response plan
Patch operating systems and applications automatically
Enable security software
Configure devices securely
Use strong user authentication
Provide employee training
Backup and encrypt data
Secure mobility
Establish perimeter defences
Secure cloud and outsourced IT services
Secure websites
Access control and authorization
Secure portable media
Why Us?
BIG PROTECTION for SMALL AND MEDIUM BUSINESSES
Enhancing Customer Business is our mission.
Reduce Business Risk
Protect Business Reputation
Prevent Revenue Loss
Differentiate Business