Small and Medium Business Hub
…time is running out
Cyber security for Small and Medium Business (SMB)
It takes alot of effort in time and money to build and operate a small and medium business. Countless hours of dedicated hard work to build your brand reputation with establishing client trust. SMBs are constantly looking to enhance their business and differentiate themselves from the pack.
Business Enhancement:
Our SMB Cybersecurity services and solutions mission is to enhance Small and Medium businesses (SMBs) by:
Reducing Business Risk

Protecting Brand Reputation

Preventing Revenue Loss

Differentiating Business
The SMB Challenges:
SMBs are constantly challenged in many fronts such as increasing IT staffing workloads, technology limitations, and simply funding availability constrains. All the while businesses need to maintain efficient operation and reduce business risk.
Our cybersecurity solutions are geared to solve these problems for the SMBs. SMBs operate in many diverse sectors and our goal is to service where ever they need us. We would encourage your business to contact us regarding your cybersecurity requirements. Taking action is the first step to getting your business secured and insuring your business risks are minimized.
Enhance Small and Medium Business
Cyber security enhances your Small and Medium Business by reducing business risk.
What are these business risks?
A business digital operations is exposed to many threats. Small and Medium business are not immune to these threats and latest stats say the 43% of cyber attacks were targeted towards SMBs. These cyber threats are summarized here;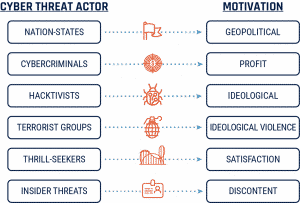 Well known threats today include;
Ransomware
Cryptojacking
Exploits
How do we minimize the risk from these threats?
We achieve the business enhancement by reducing business risk by deploying DEFENSE IN DEPTH security strategy. Defense In Depth security strategy adds multiple layers of security, just like the inner layers of an onion.
STEP1: ASSESSMENT
Our security journey starts with an ASSESSMENT of your current state. We need to know what you have or don't have and develop a plan of action to secure your small and medium business.
STEP2: CONSOLIDATE SECURITY CONTROLS – SINGLE VENDOR SOLUTION
For small and medium businesses recommend consolidating the security control tools under a single vendor solution. This has several benefits and considerably reduces cost of operations and also time to resolution.
Below are the benefits of his approach to security:
Save executive and employee vendor management time and expense by consolidating vendors.
Save IT system management, monitoring and break-fix time and expense by consolidating applications and technologies under one (or fewer) vendor.
Reduce upfront out of pocket costs by leveraging bundled pricing.
Increase operational benefits by having synchronized security (security applications and devices communicating together to help identify-defend-protect against restrict threats).
Reduce manpower or external consultant expense by working with a single vendor.
Reduce IT administration, support and management costs by utilizing a single-pane-of-glass for tracking and managing all of the various technology and applications.
Our blog article How to secure Small and Medium Business in time recession discusses these benefits.
STEP3: SINGLE PANE OF GLASS 
Bringing majority of security requirement under a single vendor solution enables SINGLE PANE OF GLASS management. This further optimizes time to resolution and management ease.
STEP4:  MANAGED SECURITY SERVICES 
Our managed security services and security infrastructure are deployed using monthly subscription model. Long term CAPEX planning are now a thing of the past.
The monthly subscription enables our customers to conserve upfront capital expenditures without compromising on their security posture.  Our OPEX model has no long term contracts with only a 12 month term for hardware lease. We are confident of our services.
STEP5: MAINTAIN CYBER VIGILANCE
We encourge our customers to develop good cyber security practice and policies. These include, having a Incident Response Plan (IRP), Continuous testing and validation of security posture via Pentration tests, Backups and DR plans.
Managed cyber security plans for
small and medium businesses
24x7x365 Managed detection response service. No additional headcount needed
Next-Gen Endpoint security (Windows/Mac/Servers)
Advanced Email security (Gsuite/MS365)
Mobile security (Android/iOS)
Wifi security (Indoor/Outdoor)
Next-Gen Firewall
Cloud security (AWS/Azure)
Cloud based Management
Fully managed firewall:

backups, upgrade, maintenance, config

Customizable: Hardware:

Lease for 12 months
Key Features of Managed Cyber Security Services
Managed Services solve provide relief for over taxed IT teams by adding a fully Managed Security Monitoring, Threat investigation and Response services.
Key features of this service are:
24×7 Managed security, including threat detection, investigation and response:
Out state-of-art technologies protect your business infrastructure. That not all. We have 24×7 eye monitoring for abnormal activity which investigates anomalies and proceeds to contain spread. This alleviates a lot of the security burden from IT teams and can focus on business tasks.
Any threat response is handled automatically and a case report is presented for further internal review.
Managed Firewall:
We manage your firewall. Firewall backups, OS upgrades, firewall config changes, alerts tasks, and support functions are handled by us.
Change management process permits 4 changes to firewall configs per month.
Monthly Billing:
All services are subscribed on monthly subscription basis. Hardware like firewall and Wifi Access Points can be purchased upfront or leased for 24 months minimum.  This eliminates any long term binding contracts. We are confident in our service quality and know you'll stay a loyal customer.
Cloud based management:
All infrastructure management is cloud based. No more needs for costly management tools. We do it for you.
Also, this enables SINGLE-PANE-OF-GLASS management where all services can be accessed on a single pane.
Gov of Canada:
Cyber security guide for  Small and Medium Businesses
Why Us?
Business Enhancing Solutions
Enhancing Customer Business is our mission.
Reduce Business Risk
Protect Business Reputation
Prevent Revenue Loss
Differentiate Business