Cybersecurity skills development – which training to take
Selecting Cybersecurity Training
Cybersecurity is a CORE service that is needed for ALL businesses that are adopting digital technologies. Having the right cybersecurity skills is necessary to protect businesses from continuous cyber threats and attacks.
Getting started in cybersecurity therefore requires a methodical skills development. There are TWO options for trainings;
Self-learning
Instructor led training
Self-learning:
If you have time on your hands and have dedicated motivation to learn at your own pace, then Self-learning can be your selection. In this mode you'll be learning on your own and finding your own way via FREE cybersecurity training resources online. The key here is that it does require alot of your TIME investment. Be ready to make this investment of TIME. Benefit is that you'll save on training costs.
Instructor led training:
The 2nd option is take an Instructor led training program. These course can be pre-recorded trainings or live-instructor led trainings. LIVE instructor led trainings have a great advantage over ALL other training methods, which is, interaction with industry experts that have years of experience in cybersecurity. Your learning goes beyond text book knowledge and you'll learn from their experience and knowledge. This saves you TIME since it you're learning from their experience. This can shave off months and years of self-learning in your cybersecurity training path. There is a COST associated with instructor-led trainings, but this is an INVESTMENT in your professional skills development in cybersecurity.
Where do you start:
As with any skills, they best route is start with building a good foundation. Everyone has to judge their knowledge level and determine where they're at. Some maybe at step 1, just getting started with IT basics, while others maybe beyond the basics stage and are ready to take on cybersecurity training.
We recommend the following path for any cybersecurity skills development:
STEP 1: Start with building IT foundation knowledge
Reach out to use for list of FREE foundation courses
STEP 2: Take CND course – starting to get into cybersecurity
CND course is the next step after foundations skills development have been completed.
You can find CND course information here.
STEP 3: Take CEH course – getting serious
Ethical Hacking training is next step after completing CND training. This gives you indepth knowledge of how hacking works and you get to think like a hacker.
You can find CEH course information here
STEP 4: Take CPENT course – Penetration Testing
After completing Ethical Hacking training, next up would be Penetration Testing training. This gives you in-depth knowledge of how to hacking environment in businesses and find security holes in their defenses.
STEP 5: Branch to other area of cybersecurity
Once you've completed these 4 steps, know you'll be in a very good position to determine your next specialization in cyber security.
You could look areas like;
Cyber Threat Hunting
SOC Analyst
Incident Responder
Forensics
Map Cybersecurity training to Real work jobs positions
Cybersecurity trains like CND, CEH, and CPENT are requirements in many Real World job positions. In fact this is dedicated organization called NIST (National Institute of Standards and Technology) that has created the NICE (National Initiative for  Cybersecurity Education). NICE's role is to standardize cybersecurity job roles and the trainings required for these roles.
For example, a job role of Security Analyst will require the following trainings as per NICE;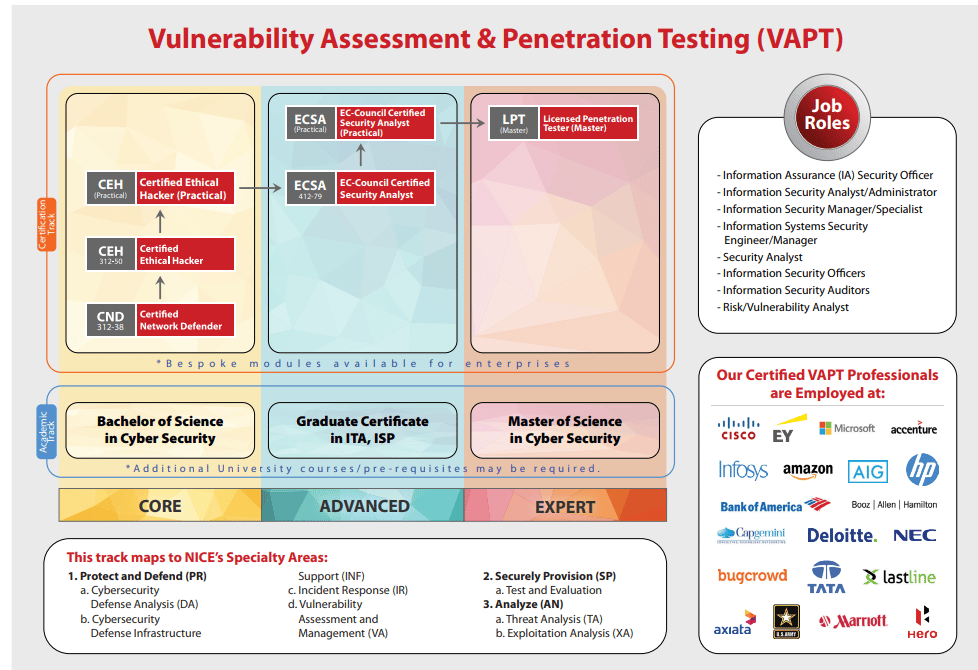 Contact us to get full NICE mapping to cybersecurity courses.
JOBs of the Future:
Cybersecurity is CORE of digital technologies and the future is all digital. You're off to a great adventure.
Reach out to us for your cybersecurity trainings. Contact us to get started today.